The Recovery class
Restorative Yoga + Breathing + Meditation, Fused into one Perfect 1-Hour Class. It'll Help you Feel more calm, Focused and Restored. Sundays and Mondays At 6:30pm EST.
Restorative Yoga: It's everything your body is telling you it needs, but you didn't know you needed.
With all of the high-intensity workouts and life's day-to-day stressors we put our bodies and minds through, it is important to find ways to reverse or rebalance that stress. I wanted to incorporate three fundamental principles that will not only help your body recover from intense workouts but will also improve your mindset, productivity, to realign your body from head to toe.
Wellness and self-care are a top priority Now More than ever and that starts with listening to your body and what it needs.
6 Benefits Of LIVE Virtual Restorative Yoga
Virtual yoga is an increasingly popular way to practice yoga from the comfort of your own home. It offers many benefits, including convenience, flexibility, accessibility, and the ability to connect with a wider community of yogis. Here are seven benefits of virtual yoga:
Why You Need Restorative Yoga?
Our fundamental health principles are fused together with safe and effective methods to reset for your body and mind. This Recovery Class is best for physical exertion and relief of stress from everyday tasks This is important now than ever before when our minds are in chronic stress mode. We are living in a near-constant fight or flight mode, which keeps our sympathetic nervous systems ramped up, and in turn, leads to physical ailments and disease. If we can create balance, both internally and externally, then we can give ourselves clarity, strength, and productivity.
As a trainer and owner of Type A Training, I have found that implementing Restorative Yoga into clients training programs has been highly successful. Not only does it reduce stress and anxiety by focusing on breath, promotes physical relaxation, triggers healing mechanisms, and improves sleep quality. I created this class to help people achieve balance.

Nathaniel W. Oliver
Owner of Type A Training of NYC.
The Recovery Class Format
All exercises can be modified to differing degrees of ability, mobility limitations, and fitness levels to suit your needs. All you need is a yoga mat, computer, internet connection to get started.

Restorative Yoga
A relaxing sequence of breath-infused stretch flows meant to release tension, untangle muscular knots and restore energy. This is the perfect recovery day workout plan that will leave you refreshed and rejuvenated.
Breath Work
Breath work refers to deep, diaphragmatic breathing or belly breathing, which research suggests may trigger relaxation responses in the body, according to a study published in June 2017 in Frontiers in Psychology. Top benefits are reduced stress, anxiety, depression, an Improved immune response and much more.
Guided Meditation
Learn how to relax your mind and body, regain energy and control your own mind through awareness. Meditation allows you to center your thoughts and focus on your breath, spinal and pelvic alignment, concentrate on your body's precise movements, control and flow.
Recovered + Calm
With the combination of breath work, mobility, agility, strength and coordination, we restore ease and motion to the body by undoing the restriction caused by intense physical training, stress from life or from the sedentary nature of modern living.
top 5 reasons
you should start practicing yoga
Pain Relief
Yoga shows promise as a treatment for relieving certain kinds of chronic pain, according to various research. One example: When German researchers compared Iyengar (a style of yoga) with a self-care exercise program among people with chronic neck pain, they found that yoga reduced pain scores by more than half.
Instructors for our Recovery Classes
Classes taught by top instructors from studios all over NYC. All instructors are vetted, certified and insured. You can be confident that you are getting nothing but excellence.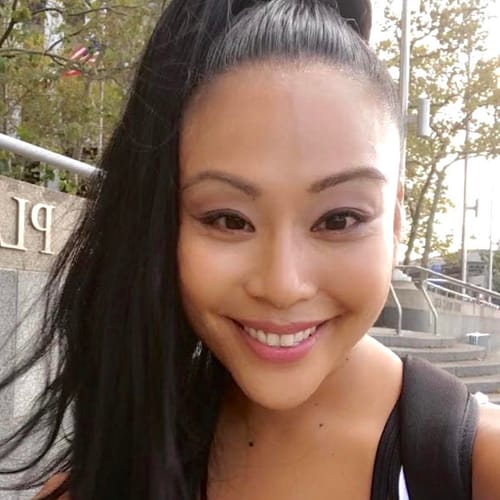 Michelle
Michelle is a Certified Fitness Instructor trained in formats that bridge breathing, dance, bodyweight training, yoga, pilates, martial arts and meditation. Her passion is to show others rhythm in breath, foundation in form, structural balance, functional movement, and freedom of spirit. She encourages students to learn various formats to strengthen what comes naturally, develop in areas that are challenging, and experience a fitness journey full circle. She has taught students and faculty at Pratt Institute, nurses and chemotherapy patients at Brookdale Hospital, and instructed at the NYC Corporate Headquarters for Spotify, Indeed, Emblem Health, and Pinterest. She's committed to continue sharing ways to help clients balance the body, relax the mind, and develop confidence within.
Tara
Tara is a certified FRC mobility specialist with a goal to invigorate curious wigglers so that they can expand their functional range of motion, create intentional movement with ease, and adapt to variables in their everyday life. Tara also specializes in menstrual biohacking for those seeking hormonal harmony in their fitness journey.
​Tara's approach to life is curious & collaborative. Already an accomplished dancer, choreographer & aerialist, curiosity led her to examine the ways in which our bodies can become inefficient and immobile. Armed with degrees in Theatre & Dance from The University of Alabama, & professional certifications in Functional Range Mobility & Yoga Trapeze, she set out to train and guide others toward harmony in their human hardware through movement for everyday life.
Yessi
Certified in Power Yoga and extensively trained in all forms of yoga, meditation, cardio, and strength training, making it fun and effective. I have all of my clients do all forms of breath-work because everything starts with breath. I find that people tend to hold their breath on a daily not allowing oxygen to flow through the muscles which is the only way you can truly release tension. Helping you to get back to your true energy underneath all the layers. I really love working with children since I can be a big kid myself which is why I am also able to bring that out of the adults I work with.
I believe that in this moment where you are now, you have a choice, that either leads you closer to your soul or further away from it. Something I've learned from training my clients is how important accountability is. You have to be there for yourself in order to improve and it's a beautiful thing to accept that you need a push and help from someone in order to achieve that. It's all about taking steps which is what I love to help my clients with.
INTRO SPECIALS

One time purchase – offer available for new students. Expires two weeks.
One time purchase – offer available to new students only. Expires 30 days.

Annual Membership

(Billed once annually at $468/year)
The Sunday Recovery Class: FAQ and Expert Advice
Yes, online yoga classes can be just as effective and better as in-person classes.
Here's why?
1. Convenience: One of the significant benefits of live online yoga classes is convenience. You can join the class from anywhere in the world, and you don't have to worry about traveling to a studio or gym. This means you can save time and money on transportation, and you can attend the class from the comfort of your own home.

2. Flexibility: Live online yoga classes offer more flexibility than in-person classes. You can choose from a wide range of classes and instructors, and you can attend the class at a time that suits you. This means you can fit the class into your busy schedule, and you don't have to worry about missing a class if you have other commitments.

3. Personalized attention: Live online yoga classes can offer personalized attention from the instructor. Since the class is online, the instructor can see you and offer guidance and adjustments as needed. This means you can get the most out of your practice and improve your technique more quickly than in a large in-person class.
The cost of online yoga classes can vary depending on the platform and teacher. At Type A Trainings new Recovery Classes, we offer a FREE two-week trial to try out our classes. We also offer a 4-class pack for $29 after a free trial. We have monthly membership for $49 and an annual membership that costs $39 per month and is paid annually at $468 each year!
Yes, many yoga teachers and platforms offer free online classes, including Type A Training's new Recovery Class which offers a free trial for two weeks.
You may need some basic yoga equipment like a mat, blocks, and straps. However, you can also use household items like towels and blankets as
Yes, beginners can take online yoga classes. Look for classes that are labeled as beginner-friendly or offer modifications for different levels.
Restorative yoga is ideal for beginners because it's a gentle, slow-paced form of yoga that focuses on relaxation and stress relief. Using props like blankets and bolsters, it's easier for beginners to achieve proper alignment and feel comfortable in the poses. Restorative yoga also improves flexibility, reduces anxiety, and promotes better sleep, making it an excellent choice for anyone looking to start a yoga practice.
Yes, you can take online yoga classes on your phone as long as you have a good internet connection and a dedicated space to practice.
Prepare for an online yoga class by setting up a dedicated space to practice, gathering any necessary equipment, and logging in to the class a few minutes early to get settled.
Yes, we will take questions from members live at the end of the class. However, during the class, we encourage you to focus on your practice and limit any distractions. If you have any questions or concerns, you can always reach out to the teacher before or after the class.
After the free trial ends, you can purchase a 4-pack (2nd intro pack) 10 pack, monthly pack or annual package to continue practicing with us.
No, there are no hidden fees with our free trial offer on our Recovery Classes. After the trial period ends, you can purchase one of our packages if you choose to continue with us.
Still Not Ready To Start, But Want More Info?
Contact us today and we'll give you the latest info
Get The 5+ Things I've Been Loving, Using, and Reading Each Week: Articles, Gadgets, Hacks, and Other Health Related Stuff.

*Get a short email every Friday with the 5+ best things I've found for the week and Get The Latest Type A Training News!
In-Home Personal Training Anywhere in Manhattan
---
Type A Training Is An In-Home Personal Training Company That Specializes In 45 And 60 Minute Full Body Circuit Workouts. Our Personal Trainers Have Been Serving Manhattan For Over 25 Years, With Over 30 Certified, Personally Vetted And Insured Trainers.