Women's Only:

The Perfect 50 Minute Morning Workout
Strength | Cardio | Flexibility
Women's Only: The Perfect 50-Minute Early Morning Workout
Strength | Cardio | Flexibility
Special Features Of our Classes
Women's only classes can provide a supportive and encouraging environment. This helps to build camaraderie and accountability, which leads to better workout consistency + results.
Goal-Oriented
Women's only boot camps can be designed to achieve specific female issues, such as weight loss, glute focused exercises, or toning the upper back and arms. This will help you stay motivated and more focused on your goals.
Mental Health
Exercise has been shown to have a positive impact on mental health, and a women's only bootcamp can provide a safe and supportive environment. This includes reducing stress, improving mood, and boosting self-confidence.
Instructors
All trainers are certified + insured so you will be in good hands. They all have at least 3 years of experience teaching classes in NYC. They also have a mix of different training styles such as strength training, endurance, HIIT, pilates and yoga.
The Perfect 50-minute Workout
Every class is led by a certified and insured coach to ensure that you get the best workout, burn the most fat, while keeping you safe and injury free!
Our Women's only class will provide a variety of benefits, including personalized attention, a supportive environment, similar goal-oriented training, and time-efficient workouts.
All levels Welcome. Classes are 3x weekly, and start at 9am!
we combine Strength, endurance and Flexibility all into one awesome 50-minute workout.
Our Certified Personal Trainers are here to motivate, hold you accountable, correct form & give modifications to reduce injuries.
Support

You don't have to go it alone. Support and accountability are baked right into the program.
---
We are looking for commitment which will bring more value to you and help you reach your goals. Hence, the reason we only have monthly Packages.

---
Check your Email for your welcome letter followed by the entire program with detailed instructions on everything.
---
join the support group, you're all set to start the Transformation of your LIFE!
Meet Our Team
Our staff is composed of highly skilled and educated personal trainers whose mission is to provide exceptional service and results. Our instructors' diverse backgrounds in fitness and health will help get you moving into a lifetime of healthy habits. What they all have in common though, is the desire to empower as many people as possible to achieve better fitness, health and quality of life. Learn more about our trainers here.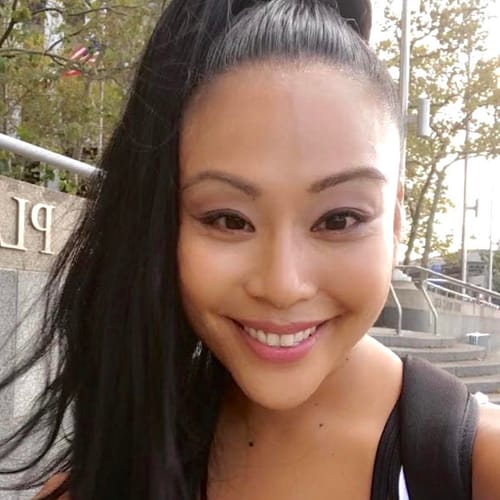 Michelle
Michelle is a Certified Fitness Instructor trained in formats that bridge breathing, dance, bodyweight training, yoga, pilates, martial arts and meditation. Her passion is to show others rhythm in breath, foundation in form, structural balance, functional movement, and freedom of spirit. She encourages students to learn various formats to strengthen what comes naturally, develop in areas that are challenging, and experience a fitness journey full circle. She has taught students and faculty at Pratt Institute, nurses and chemotherapy patients at Brookdale Hospital, and instructed at the NYC Corporate Headquarters for Spotify, Indeed, Emblem Health, and Pinterest. She's committed to continue sharing ways to help clients balance the body, relax the mind, and develop confidence within.
Tara
Tara is a certified FRC mobility specialist with a goal to invigorate curious wigglers so that they can expand their functional range of motion, create intentional movement with ease, and adapt to variables in their everyday life. Tara also specializes in menstrual biohacking for those seeking hormonal harmony in their fitness journey.
​Tara's approach to life is curious & collaborative. Already an accomplished dancer, choreographer & aerialist, curiosity led her to examine the ways in which our bodies can become inefficient and immobile. Armed with degrees in Theatre & Dance from The University of Alabama, & professional certifications in Functional Range Mobility & Yoga Trapeze, she set out to train and guide others toward harmony in their human hardware through movement for everyday life.
Yessi
Certified in Power Yoga and extensively trained in all forms of yoga, meditation, cardio, and strength training, making it fun and effective. I have all of my clients do all forms of breath-work because everything starts with breath. I find that people tend to hold their breath on a daily not allowing oxygen to flow through the muscles which is the only way you can truly release tension. Helping you to get back to your true energy underneath all the layers. I really love working with children since I can be a big kid myself which is why I am also able to bring that out of the adults I work with.
I believe that in this moment where you are now, you have a choice, that either leads you closer to your soul or further away from it. Something I've learned from training my clients is how important accountability is. You have to be there for yourself in order to improve and it's a beautiful thing to accept that you need a push and help from someone in order to achieve that. It's all about taking steps which is what I love to help my clients with.
INTRO SPECIALS

Offer is valid for new clients only

2-Week Challenge for $39.00
Membership Pricing
Women's only classes can provide a great supportive and encouraging environment. This can only help to build better camaraderie and accountability, which leads to better workout consistency + results. Hence the reason we don't offer drop ins or small packages.
Billed as $249 for one month
4 - Week Member w/ Auto-Pay
Billed as $199 every 4 weeks
No cancelation fees | No contracts | Cancel anytime
Still Not Ready To Start, But Want More Info?
Contact us today and Let us know what you're looking for.
Frequently Asked Questions

what is a typical workout like?
You can expect to do a lot of plyometrics and calisthenic-type exercises (such as push-ups, burpees, lunges, squats, crunches, etc), along with other drills and sprints. You will burn a lot of calories in a short amount of time.
I have issues with ______ (part of body). Can I still do the classes?
Absolutely. Our coaches are trained to provide options and modifications for all exercises. For those with lower body injuries or orthopedic restrictions, we suggest checking with your primary care physician before proceeding with booking your first class with us.
Unexpected Surprises Or Delays Happens, That Is Why Morning Workouts Are Guaranteed, There Are No Excuses. You Will Avoid All Distractions Like Texts, Calls, And Emails.
Heavy rain or snow, cold weather?
All class participants will receive an email for a LIVE Online class. We will keep the same day and times the only change will be that it will be done over ZOOM live for safety reasons. All notices will go out prior day with a text, email or both.
Are Trainers Certified And Insured?
Yes, they are all certified and insured. They are also personally hand-picked by Nathaniel and vetted to insure you're getting the best trainers in Manhattan.
no dropins or small class packs?
We are looking for commitment which will bring more value to you and help you reach your goals. Hence, the reason we only have monthly Packages.
We require a 30 day notice prior to the renewal date if you would like to cancel your membership. If you cancel, you will not be able to get this rate again. To cancel your Membership, please complete this form on our website: typeatraining.com/cancel
what type of training do you do?
How early should I arrive for my first class?
What should i eat before i workout?
What if I have a specific injury or can't perform a certain exercise?
How long are the workouts?
what if i don't know how to do the exercises?
What is your refund policy ?